Digital Prospectors Named to Inc. Magazine's Best Workplaces of 2021!
Digital Prospectors is thrilled to be only one of two companies selected in New Hampshire and one of only a handful staffing agencies to make the list. Digital Prospectors has also been named a winner in the Micro: Employee size 10-49, and Robust & Powerful: $50MM+ in gross revenue categories.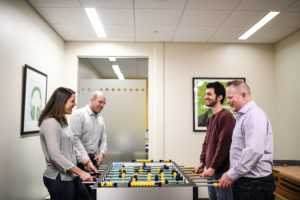 We are honored to rank among the highest-scoring businesses on INC. Magazine's annual list of Best Workplaces for 2021. Our slogan is 'love your job,' so we are always thinking of ways that we can go above and beyond to ensure that our employees enjoy their time at work. Our employees rave about our culture, work environment and perks! Digital Prospectors' values are shaped by what we call the P.A.S.S.I.O.N. value system: Perseverance, Accountability, Service, Straight Talk, Integrity, Open-Mindedness and Neighborliness. These are qualities that make an employee a complete person, not just someone filling a particular job function.
Inc. magazine editor-in-chief Scott Omelianuk said, "This is no small feat, as this year's field of entries was the most competitive we've ever seen. In 2021, thousands of companies applied to be recognized as one of the best workplaces in America. From the many remarkable companies vying for the award, only a fraction are being honored as Inc.'s 2021 Best Workplaces. Clearly, Digital Prospectors has gone through extraordinary lengths to attract, develop, and maintain its workforce."
Collecting data from thousands of submissions, Inc. singled out 429 honorees this year. Each nominated company took part in an employee survey, conducted by Quantum Workplace, on topics including management effectiveness, perks, and fostering employee growth. The organization's benefits were also audited to determine the company's overall score and ranking.
"The definition of a positive workplace has changed drastically over the past year," says Inc. magazine editor-in-chief Scott Omelianuk. "Stocked fridges and nap pods were no longer perks many companies could rely on once work went remote. So, this year's list is even more important as it reveals organizations that continue to enrich the lives of its employees amid a pandemic.
Thank you, INC. Magazine, for this recognition!
About Digital Prospectors
We believe all people should love their jobs.  Founded in 1999, Digital Prospectors is a top IT staffing agency in Boston that has placed thousands of contractors and direct-hire employees with hundreds of prestigious companies nationwide.  Our work is about improving the lives of the people we serve by connecting opportunity and talent in meaningful ways.  Life is short – Love your job!®
See the other accolades that we have earned recently!