Digital Prospectors wins ClearlyRated's 2022 Best of Staffing 5 Year Diamond Award for Client Satisfaction!
Diamond award winners have won the Best of Staffing award for at least 5 years in a row, consistently earning industry-leading satisfaction scores from their clients.
Digital Prospectors, a top Boston staffing agency for the IT and Engineering, ERP, and Life Sciences industries has won ClearlyRated's Best of Staffing® Client 5 Year Diamond Award for providing superior service to our clients. ClearlyRated's Best of Staffing Client winners have proven to be industry leaders in service quality based entirely on ratings provided by their clients. On average, clients of winning agencies are twice as likely to be completely satisfied with the services provided compared to those working with non-winning agencies.
Digital Prospectors received a Net Promoter® Score of 90%, significantly higher than the industry's average of 29% in 2021.
Digital Prospectors received satisfaction scores of 9 or 10 out of 10 from 93.3% of their clients, significantly higher than the industry's average of 41%.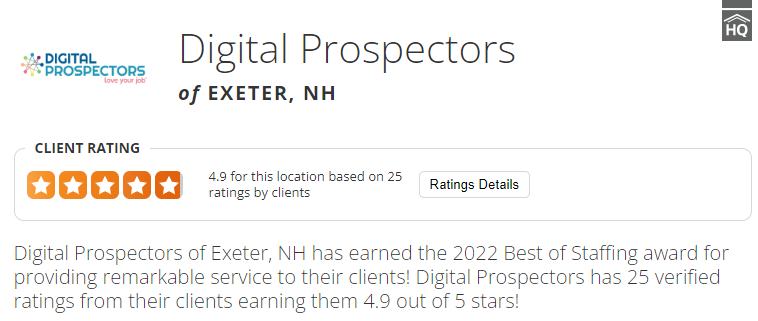 "Our company works hard to make service a priority and we are proud and honored to be recognized for our efforts in this way," Digital Prospectors' President, Don Catino said.
"Winners of the 2022 Best of Staffing award have demonstrated their commitment to delivering exceptional service, even as Covid-19 has forced them to reimagine and rebuild their approach to business," said ClearlyRated's CEO and Founder, Eric Gregg. "These service leaders have kept the client, talent, and employee experience at the heart of their business strategy, and it's my honor to celebrate and showcase the 2022 Best of Staffing winners alongside feedback from their actual clients on ClearlyRated.com!"
Here are some of the testimonials from our clients: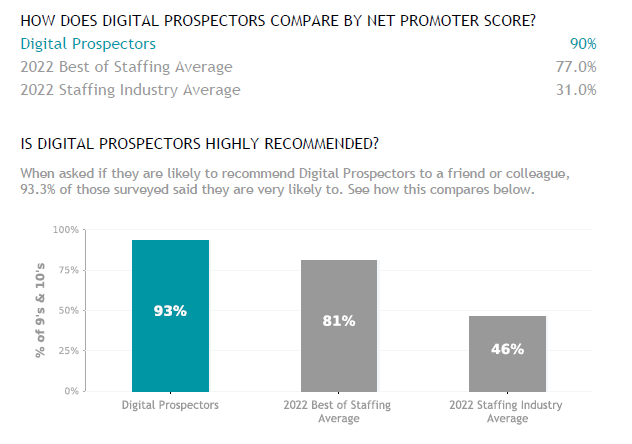 "The Digital Prospectors team is more than just a company that provides people. They investigate what's needed, understand the job demands, and search for a good fit."
"Each interaction I have had with Digital Prospectors via Steve Ianessa has been professional, respectful, and transparent. Candidates presented are typically excellent matches for the skill sets required. I do not hesitate to reach out when needed"
"Digital prospectors is good at providing qualified candidates and they never overwhelm us with junk resumes."
"Very good communication skills, trust worthy. Only forwards highly qualified and vetted candidates which simplifies hiring process for me."
"I was looking for a specific role and background that is particularly difficult to find in the Massachusetts area. They provided the widest selection and were the only team that provided what I was looking for in terms of a skillset."
"Stacia has been a pleasure to work with. Resumes received for potential candidates are often of high quality and a good role fit for my team."
"We have had good success finding candidates for niche roles where the more common expertise in the area doesn't tend to match up to these roles."
"Dana Tarlow is like an extended member of our corporate family. She understands the culture and the work that various departments perform. Her combination of IQ and EQ make her a joy to work with when looking to fill roles. Digital Prospectors also provides us very qualified candidates in the rates that we have needed."
As New England's premier IT staffing agency, we take the satisfaction of our clients seriously. We'd like to thank ClearlyRated for their recognition. We hope to build upon this award by continuing to satisfy our clients!
About Digital Prospectors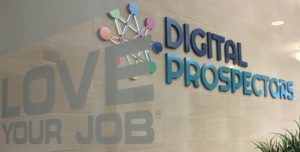 We believe all people should love their jobs.  Founded in 1999, Digital Prospectors is a top IT staffing agency in Boston that has placed thousands of contractors and direct-hire employees with hundreds of prestigious companies nationwide.  Our work is about improving the lives of the people we serve by connecting opportunity and talent in meaningful ways.  Life is short – Love your job!® Search jobs and connect with our team who will advocate on your behalf.
About ClearlyRated
Rooted in satisfaction research for professional service firms, ClearlyRated utilizes a Net Promoter® Score survey program to help professional service firms measure their service experience, build online reputation, and differentiate on service quality. Learn more at https://www.clearlyrated.com/solutions/.
About Best of Staffing
ClearlyRated's Best of Staffing® Award is the only award in the U.S. and Canada that recognizes staffing agencies that have proven superior service quality based entirely on ratings provided by their clients and job candidates. Award winners are showcased by city and area of expertise on ClearlyRated.com – an online business directory that helps buyers of professional services find service leaders and vet prospective firms – based exclusively on validated client and talent ratings and testimonials.
We want to thank the ClearlyRated for this recognition. See our other accolades that we have earned recently! Also, see our client past performance.
Let us help you augment your team with our talent network! Click the button below to learn more.