6th Year in a Row, Digital Prospectors wins ClearlyRated's 2023 Best of Staffing Diamond Award for Client Satisfaction!
Diamond award winners have won the Best of Staffing award for at least 5 years in a row, consistently earning industry-leading satisfaction scores from their clients. This is Digital Prospectors' 6th time in a row winning this ClearlyRated Client Satisfaction award.
Digital Prospectors, a top Boston staffing agency for the IT and Engineering, ERP, and Life Sciences industries has won ClearlyRated's Best of Staffing® Client 5 Year Diamond Award for providing superior service to our clients. ClearlyRated's Best of Staffing Client winners have proven to be industry leaders in service quality based entirely on ratings provided by their clients. On average, clients of winning agencies are 70% more likely to be completely satisfied with the services provided compared to those working with non-winning agencies.
Digital Prospectors received a Net Promoter® Score of 95%, significantly higher than the industry's average of 31% in 2022. This is the highest NPS we have earned.
Digital Prospectors received satisfaction scores of 9 or 10 out of 10 from 95% of their clients, significantly higher than the industry's average of 46%.
"Our company works hard to make service a priority. We are proud and honored to be recognized for our efforts in this way," Digital Prospectors' President, Chris Howgate said.
"I am pleased to introduce the 2023 Best of Staffing winners alongside their validated service ratings on ClearlyRated.com," said ClearlyRated's CEO, Eric Gregg. "These firms have demonstrated a remarkable commitment to delivering amazing experiences, despite another year of upheaval and macroeconomic uncertainty. Hats off to these service leaders – it's truly an honor to recognize and celebrate their achievements."
Here are some of the testimonials from our clients: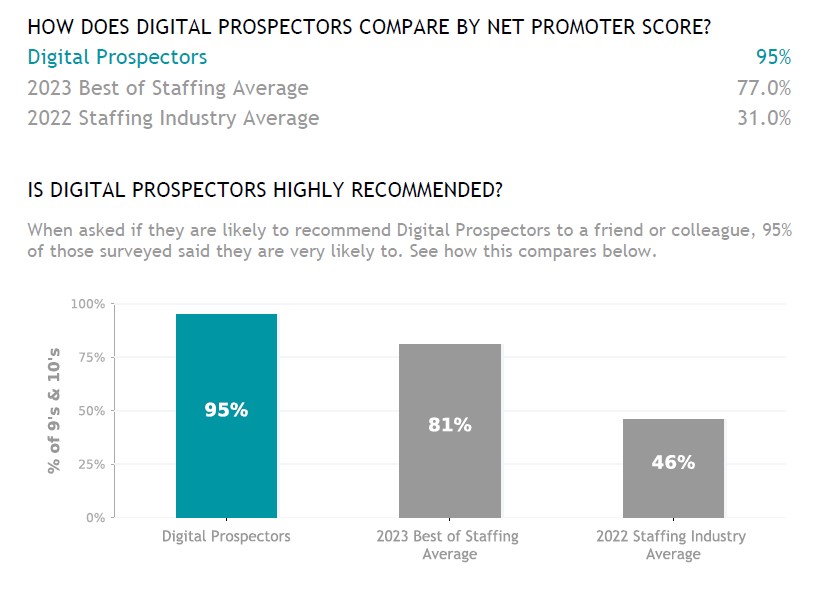 "Melina takes her time to understand the company culture as well as the hiring manger's needs in her screening process which allows a quick and easy interview."
"Smooth workflow. Excellent response to any questions."
"Stacia is a pleasure to work with. We really enjoy working together and the candidates have been top-notch. Highly recommend!"
"The quality of the candidates is fantastic. The support is amazing."
"Easy to work with. Can change their process/approach based on the manager or role. Realistic about candidate expectations. Always move fast (usually faster than our managers can). Look to resolve problems quickly"
"They were able to understand my team's culture as well as my needs to select the best candidates for my project."
As New England's premier IT staffing agency, we take the satisfaction of our clients seriously. We'd like to thank ClearlyRated for their recognition. We hope to build upon this award by continuing to satisfy our clients!
About Digital Prospectors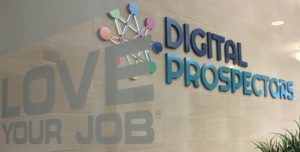 We believe all people should love their jobs.  Founded in 1999, Digital Prospectors is a top IT staffing agency in Boston that has placed thousands of contractors and direct-hire employees with hundreds of prestigious companies nationwide.  Our work is about improving the lives of the people we serve by connecting opportunity and talent in meaningful ways.  Life is short – Love your job!® Search jobs and connect with our team who will advocate on your behalf.
About ClearlyRated
Rooted in satisfaction research for professional service firms, ClearlyRated utilizes a Net Promoter® Score survey program to help professional service firms measure their service experience, build online reputation, and differentiate on service quality. Learn more at https://www.clearlyrated.com/solutions/.
About Best of Staffing
ClearlyRated's Best of Staffing® Award is the only award in the U.S. and Canada that recognizes staffing agencies that have proven superior service quality based entirely on ratings provided by their clients and job candidates. Award winners are showcased by city and area of expertise on ClearlyRated.com – an online business directory that helps buyers of professional services find service leaders and vet prospective firms – based exclusively on validated client and talent ratings and testimonials.
We want to thank the ClearlyRated for this recognition. See our other accolades that we have earned recently! Also, see our client past performance.
Let us help you augment your team with our talent network! Click the button below to learn more.