Control: My Account of the Quarantine
By: Cole Brams, Digital Prospectors Intern
First it was the Ivy League. Then came the smaller and mid-level conferences. Before the day was over, all collegiate and pro sports had cancelled their seasons. Sports fans and athletes were devastated, as the accumulation of a season's hard work was lost.
It was March 12th when I heard the news, surrounded by my teammates on the University of Utah lacrosse team, packed into a tiny hotel in rural Massachusetts. We were slated to play the University of Massachusetts Amherst the following day but had just received news about the cancellation. Staring across the room I could see the seniors wearing blank faces, motionless, unable to comprehend what had just happened. After a lifetime playing the sport they loved, it was over. Similar meetings happened in locker rooms across the nation during this day all with the same unfortunate outcome; the season and careers of seniors was over. There were many tears shed and family members called throughout the day, a trend that would continue as the Coronavirus raged on.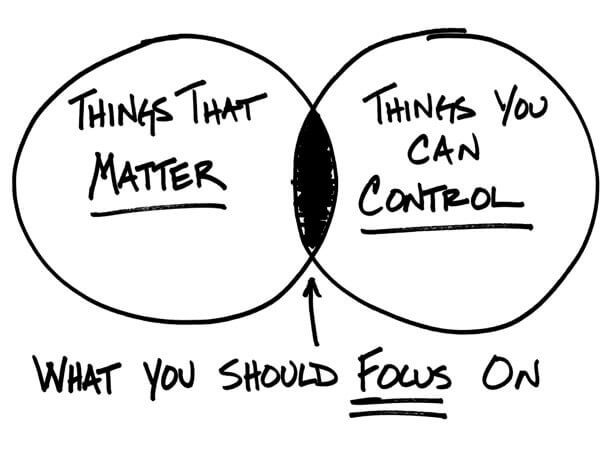 Everyone had their own struggles during the pandemic, but I have come to find comparing people's burdens is useless. I cannot put myself in the chair of a senior who lost everything on that day, or the heart of a mother who lost a loved one to this disease. The only common thread throughout the disease is the underlying truth. You can only control what you can control.
Control in this time seems impossible, as fear and obstacles continue to influence life. However, there are still many controllable aspects. Your attitude towards life and the pandemic. Your work ethic with given tasks. How you treat and interact with others. Living an active life and eating right. Although simple tasks, the cumulative reward of controlling these aspects is extremely fulfilling. These "controllables" end up determining how you handle what you cannot control.
The seniors could not control the outcome of their season this year, but still had the ability to influence. Two weeks following the cancellation, our team gathered on zoom to reconnect and check-in. Everyone was still dealing with the pain of losing the season, but happy to see fellow teammate's faces. Amidst all the madness and uncertainty, our coach had a clear message for our team. This was not a time to be depressed about what was lost, but hopeful for the future. A time to improve yourself and reconnect with your loved ones. A time to control your life and not worry about what you can not control.
If you need advice on how to best control what you can in these difficult times or handle your job search/career, speak with the knowledgeable recruiters at Digital Prospectors. As one of the top IT staffing agencies in Boston, we have helped many people with what they can control during these times and know companies that are currently looking for talented tech professionals. Connect with us soon!