Digital Prospectors is a Best Place to Work in 2022, according to our employees on Glassdoor!
Digital Prospectors is excited to announce it is among the winners of the annual Glassdoor Employees' Choice Awards, a list of the Best Places to Work in 2022!
Out of the over 1 million companies on Glassdoor, Digital Prospectors ranked 36 on the Top 50 on Glassdoor's Best Places to Work U.S. Small & Medium Businesses list. We boasted an overall company rating of 4.6 out of 5 during the one-year award period. Digital Prospectors is the only staffing agency to make the list and is the fourth highest-ranked company in New England!
Unlike other awards, there is no self-nomination or application process, instead, it's entirely based on the feedback our employees have voluntarily and anonymously shared on Glassdoor. To determine the winners of the awards, Glassdoor evaluates all company reviews shared by employees over the past year. This year, we are proud to be recognized as a Best Place to Work among small and medium U.S. companies with fewer than 1,000 employees.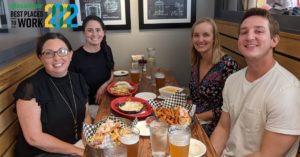 "I am beyond thrilled that Digital Prospectors is a Glassdoor Employees' Choice Award winner," said Digital Prospectors Co-Founder and Principal, Don Catino. "We realize that only a small number of companies achieve this award and it reflects the efforts that all Digital Prospectors employees contribute to make our culture and work environment a place that employees can truly love their jobs."
A huge thank you goes out to all our employees who took the time to share their perspective on what it's like to work here. We appreciate all the valuable feedback as it only helps us improve.
Below are just a few words employees shared on Glassdoor that contributed toward the award and make us feel incredibly honored:
"I've been with Digital Prospectors for 18+ months and so far haven't had any negative experiences. My recruiter is always there to help. This has been my best contract coordination company to date" – Calibration Technician in Southern NH
"Great compensation with such an amazing benefits package. They truly care about you as an employee by staying in touch regularly and ensuring you have everything you need to be successful in your new role!" – Senior Systems Administrator in Boston, MA
"Digital Prospectors is without a doubt the best Staffing Company that I have worked at. Not only is the company successful from a revenue standpoint, but they are successful in that the employees genuinely enjoy working here and are happy. Senior Leadership has created an amazing culture which they never lose sight of. They truly value and trust all employees. They appreciate a healthy work-life balance, which is extremely important in today's day and age. And they don't just talk-the-talk when they say that. They really do walk-the-walk and live by that. Digital Prospectors also truly values their contractors. The compensation and benefits options they can provide are a testament to that. I am happy to work at such an amazing company." – Technical Recruiter in Exeter, NH
"Digital Prospectors is very accommodating to your needs and will reply with an answer to your questions in a timely manner. They were very easy to work with and helped me get through the onboarding process with ease. My recruiter accommodated to me very well and always checked up with me every month." – Senior Research Associate in San Francisco, CA
"My Digital Prospectors recruiter helped place me in an exciting and competitive role in my field, which I intend to keep long after full-time employee conversion. The Digital Prospectors team is experienced and easy to work with, and I appreciate the close attention they give. They're helpful and responsive when I have a question. They also have simplified detailed steps on how to access payroll and enroll in benefits." – Technical Project Manager in Boston, MA
Visit Digital Prospectors' Glassdoor page to see more reviews!
See the full list of winners.