Digital Prospectors Ranked 5 out of the Top 50 on Glassdoor's Best Places to Work!
Digital Prospectors is excited to announce it is among the winners of the annual Glassdoor Employees' Choice Awards, a list of the Best Places to Work in 2019!
Ranked 5 out of the Top 50 on Glassdoor's Best Places to Work U.S. Small & Medium Businesses, Digital Prospectors boasts an overall company rating of 4.9 out of 5. Digital Prospectors is the only staffing agency to make the list and is the highest ranked company in New England!
Unlike other awards, there is no self-nomination or application process, instead it's entirely based on the feedback our employees have voluntarily and anonymously shared on Glassdoor. To determine the winners of the awards, Glassdoor evaluates all company reviews shared by employees over the past year. This year, we are proud to be recognized as a Best Place to Work among small and medium U.S. companies with fewer than 1,000 employees.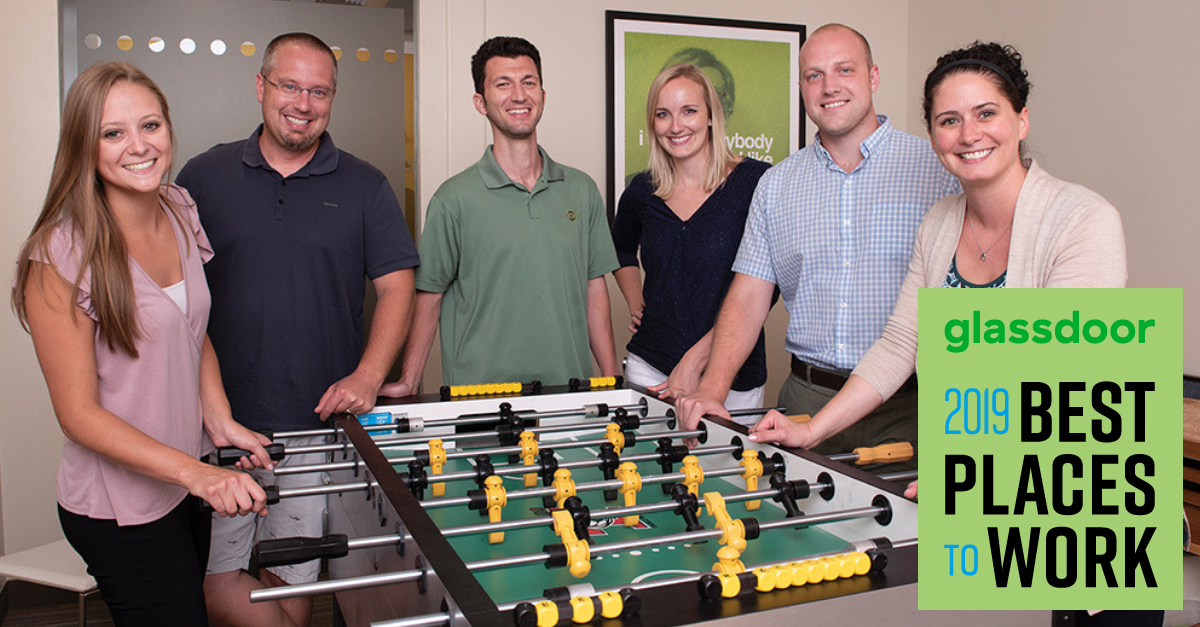 "I am beyond thrilled that Digital Prospectors is a Glassdoor Employees' Choice Award winner," said Digital Prospectors Principal Don Catino. "We realize that only a small number of companies achieve this award and it reflects the efforts that all Digital Prospectors employees contribute to make our culture and work environment a place that employees can truly love their jobs."
A huge thank you goes out to all our employees who took the time to share their perspective on what it's like to work here. We appreciate all the valuable feedback as it only helps us improve.
Below are just a few words employees shared on Glassdoor that contributed toward the award and make us feel incredibly honored:
"Digital Prospectors is an amazing company to work for that truly cares about doing the right thing. They are always willing to listen and look for ways to improve. Fully paid benefits, matching 401k, generous PTO and Comp Plans but most importantly the ownership is visible and treats employees like friends and family."
"Great culture, great staff, and great opportunities are all main components to an excellent workplace at Digital Prospectors. Competitive compensation structure, ample opportunity to make money and succeed in your position. Generous amount of company events, days off, and half days. All the tools needed to do your job well are provided. Management is all very open and responsive to new ideas."
Visit Digital Prospectors' Glassdoor page to see more reviews!
You can learn more about the Glassdoor Employees' Choice Awards and see the full list.
About Digital Prospectors
We believe all people should love their jobs.  Founded in 1999, Digital Prospectors is a top IT staffing agency in Boston that has placed thousands of contractors and direct-hire employees with hundreds of prestigious companies nationwide.  Our work is about improving the lives of the people we serve by connecting opportunity and talent in meaningful ways.  Life is short – Love your job!®
About Glassdoor
Glassdoor combines all the latest jobs with millions of reviews and insights to make it easy for people to find a job that is uniquely right for them. As a result, Glassdoor helps employers hire truly informed candidates at scale through effective recruiting solutions like job advertising and employer branding products. Launched in 2008, Glassdoor now has reviews and insights for over 830,000 companies located in more than 190 countries. For more information, visit glassdoor.com. Glassdoor® is a registered trademark of Glassdoor, Inc.